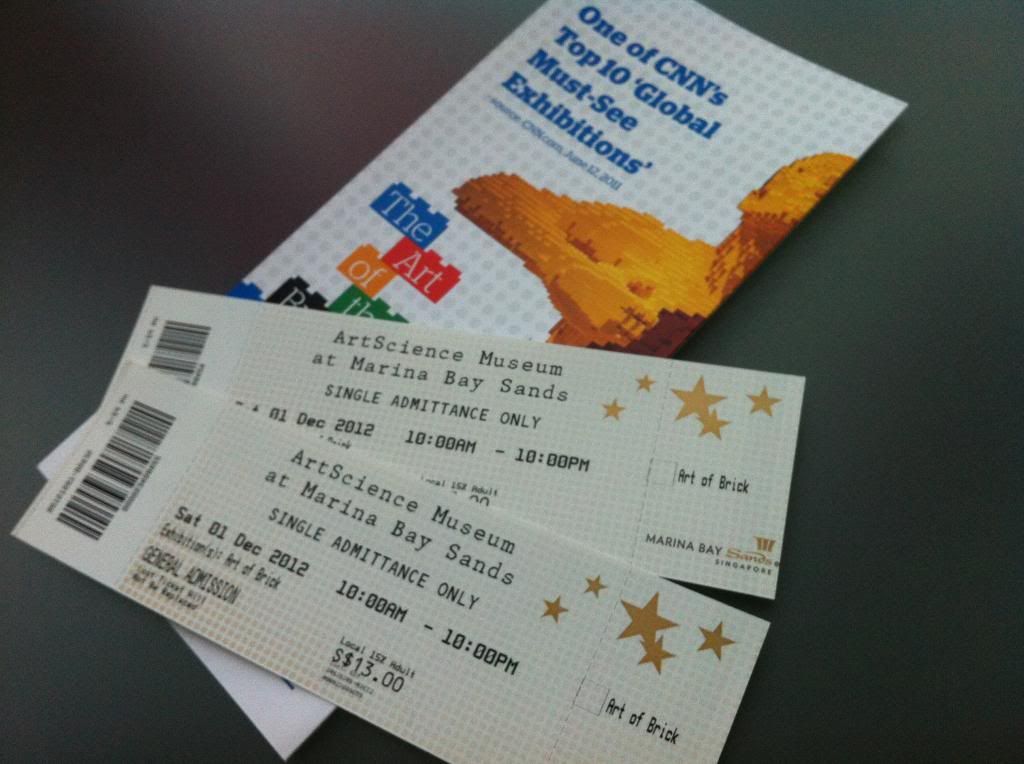 Bb loves playing with Lego although he's not really a hard-core Lego builder like Nathan who held this exhibit. His exhibits were really awesome and out of the world!
Be prepared for a massive photo spam but I am sorry for the blur images taken with my iPhone!
Basically, this post is about the whole exhibition!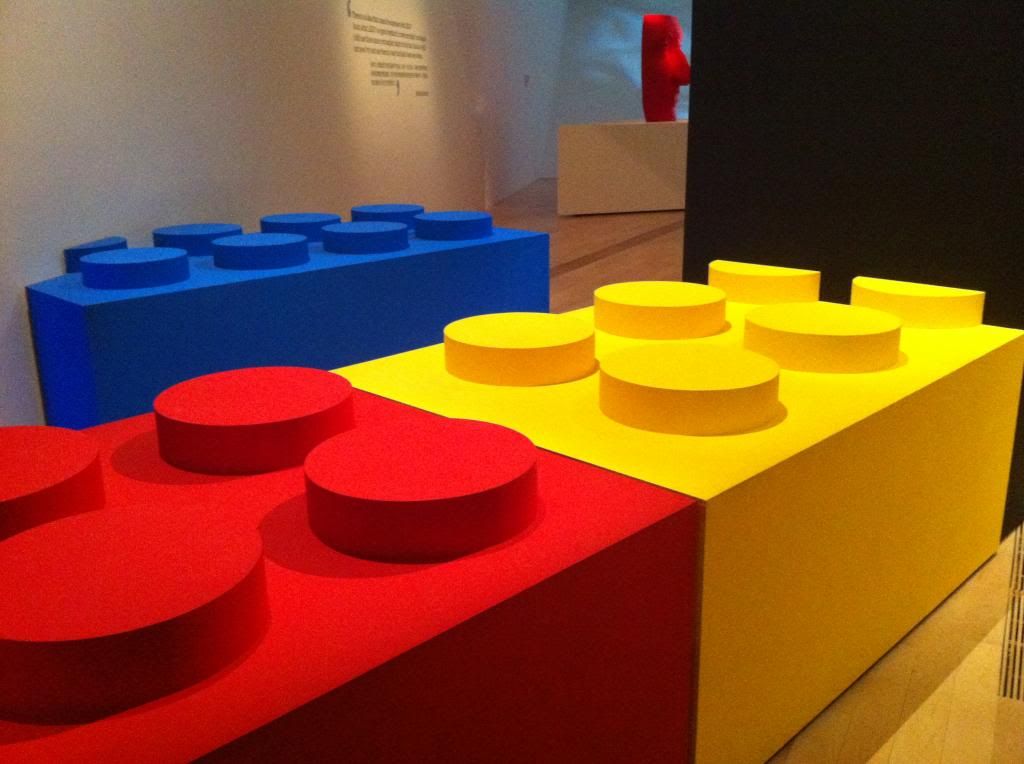 Huge Lego bricks greeting us at the entrance!
Quoted by Nathan:
Hands
"This piece is literally my nightmare.
My hands are my most important tool.
Hands took 3 weeks to create. (2007)
15,136 bricks"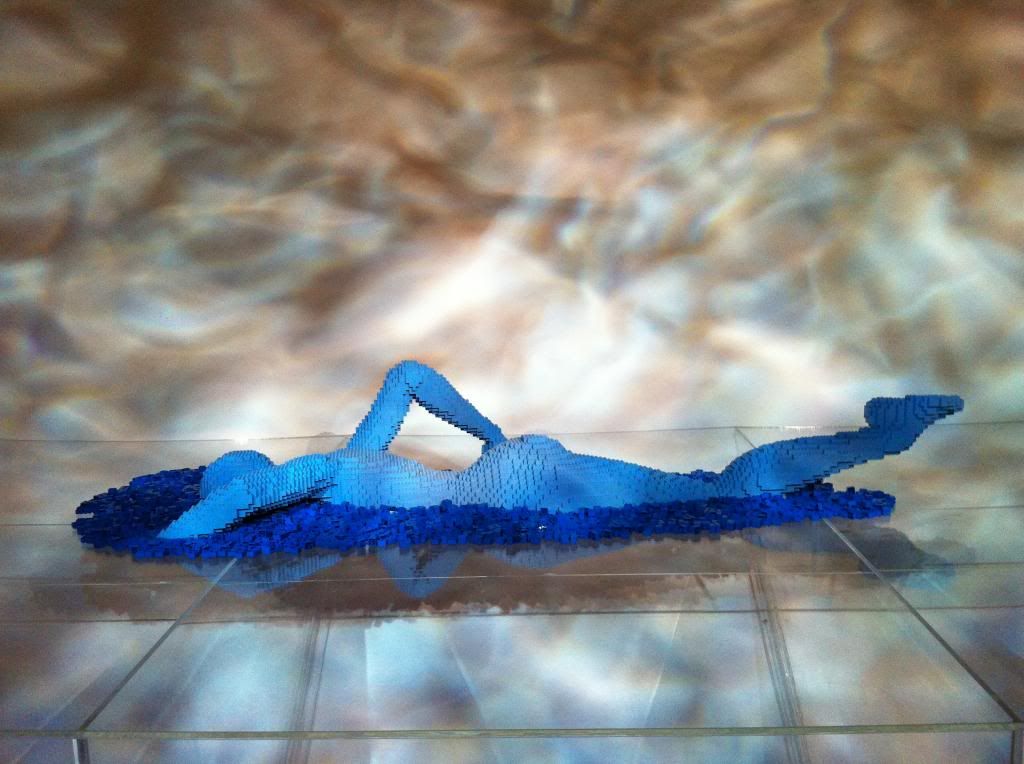 Quoted by Nathan:
Swimmer
"In this piece we only see above the surface. The viewer's imagination is
permitted to fill in the rest of the sculpture below the surface.
It took 15 days to create Swimmer (2009)
10,980 bricks"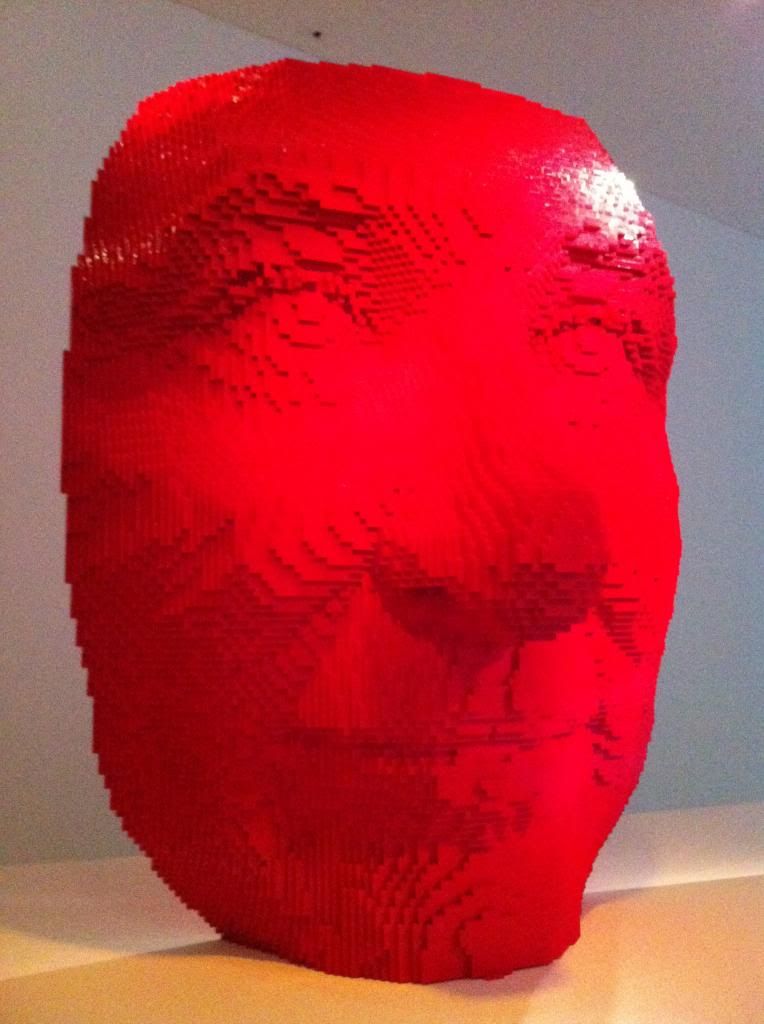 Quoted by Nathan:
FaceMask
"This is a self-portrait.
I used dozens and dozens of photos of my head from all angles as a basis
for this over-sized sculpture. It took over a month to create. (2009)
10,770 bricks"
Star attraction of the exhibition
Quoted by Nathan:
Yellow
"Probably my best-known piece.
Yellow always draws a lot of attention from adults as well as children.
Why? I think we grown-ups appreciate how cathartic 'opening oneself up to
the world' can be for our souls. And the kids? Probably because yellow guts
spilling onto the floor looks cool. For me, this piece is about the metamorphosis
I have been through on my journeys. (2006)
11,014 bricks"
OTD : Uniqlo x Disney shirt, Uniqlo jeans, Rubi sneakers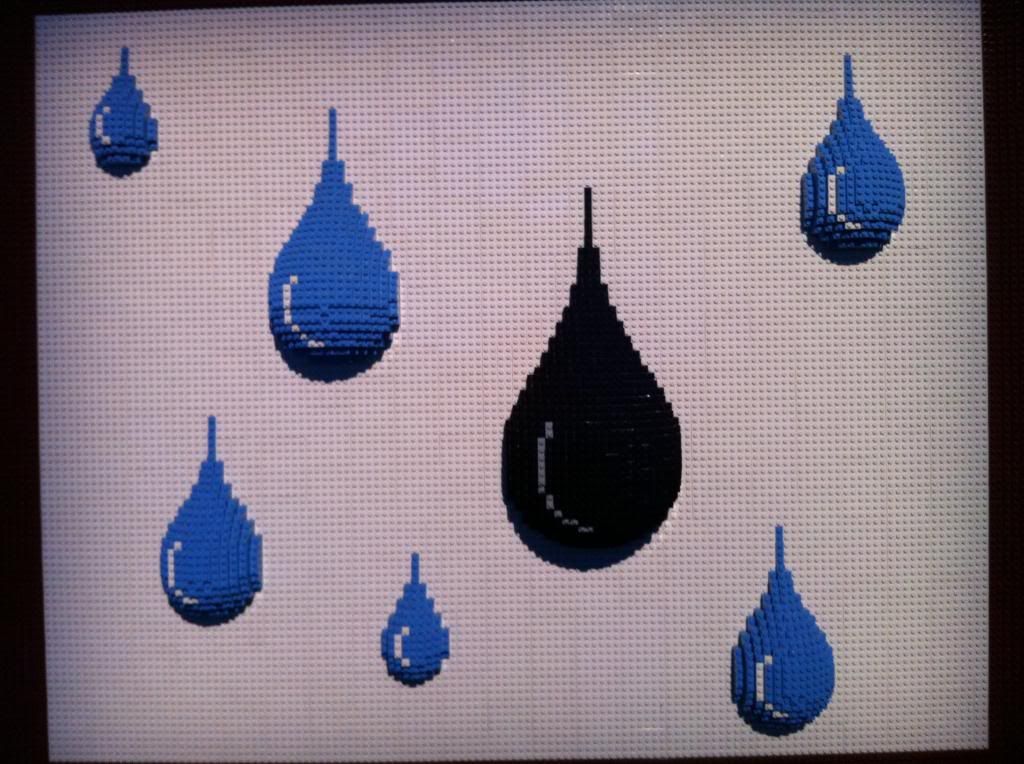 Quoted by Nathan:
Rain
"Rain, rain go away, come again another day.
This piece originally began as tear drops, but felt more like rain by the end.
I had to experiment giving depth to my hanging wall pieces because of the
dimensional nature of the drops. (2008)
4,345 bricks"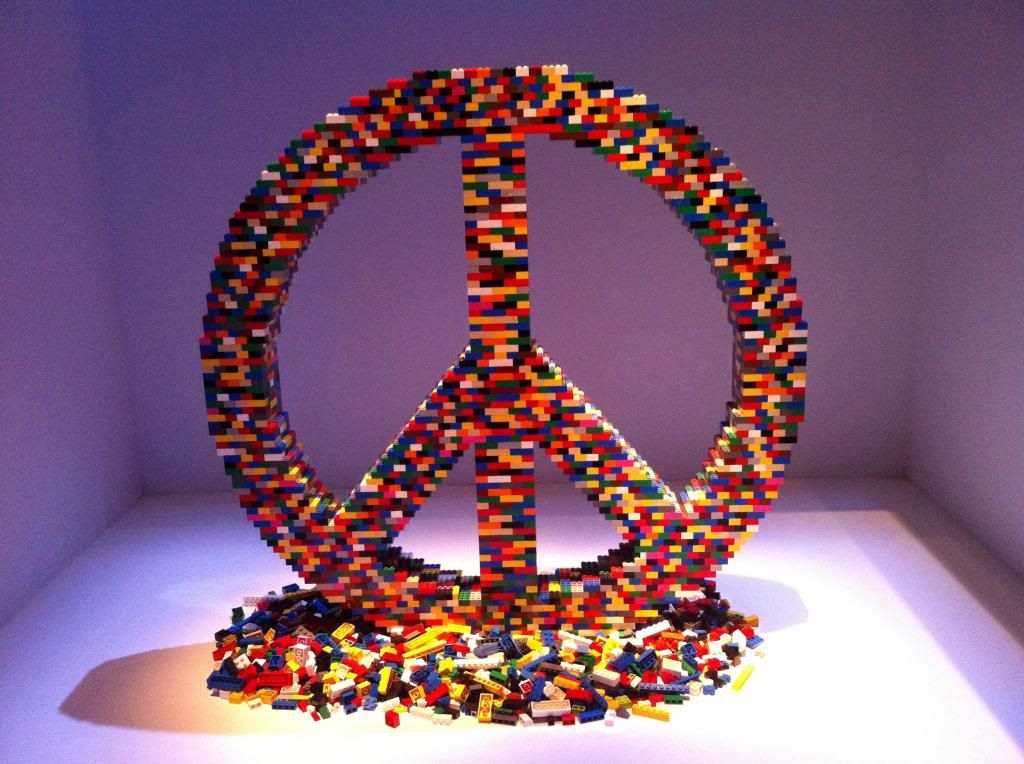 Quoted by Nathan:
Peaces
"What does it take to create Peaces? It takes many pieces.
And all the colors in the world working together.
This sculpture was created using thousands of recycled bricks. (2010)
3,720 bricks"
Big and small Apple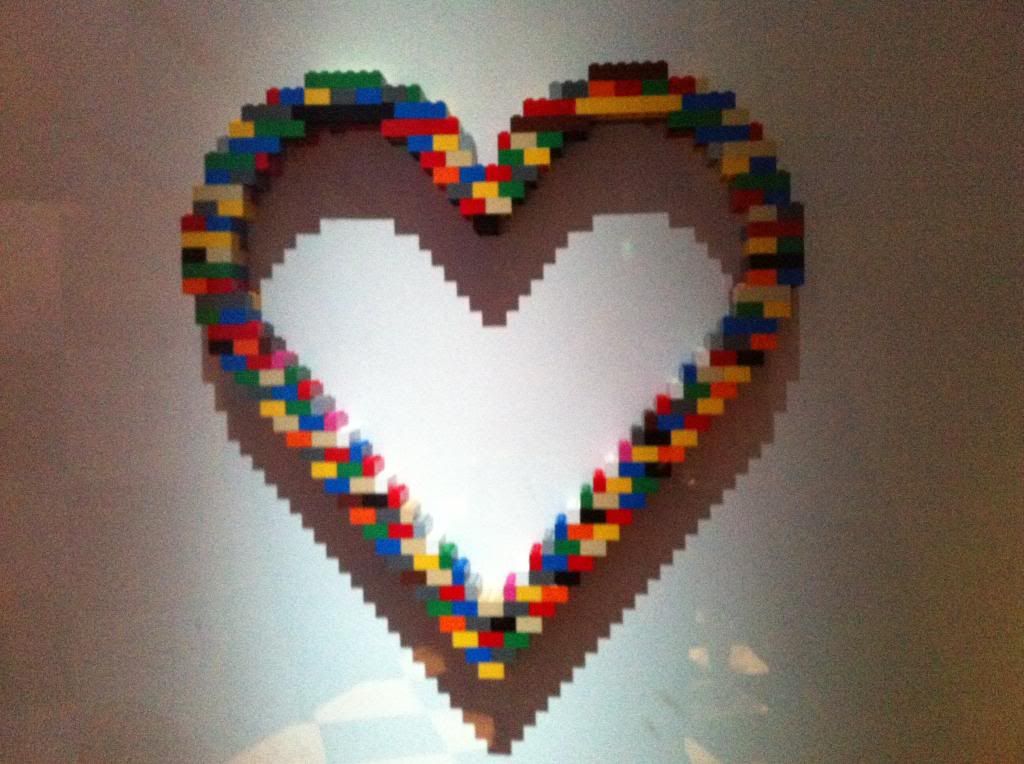 Quoted by Nathan:
Open Heart
"I built this heart shape using recycled LEGO bricks that folks have donated.
Rather than let their old bricks become trash, I was happy to take them off
their hands and transform them into artwork. An Open Heart keeps nothing
hidden. You can see it for what it is. You can even see right through it. (2011)
1,856 bricks"
Note: I am not sure about the number of bricks used for Open Heart as I could not see the blur number on the image. Thank you.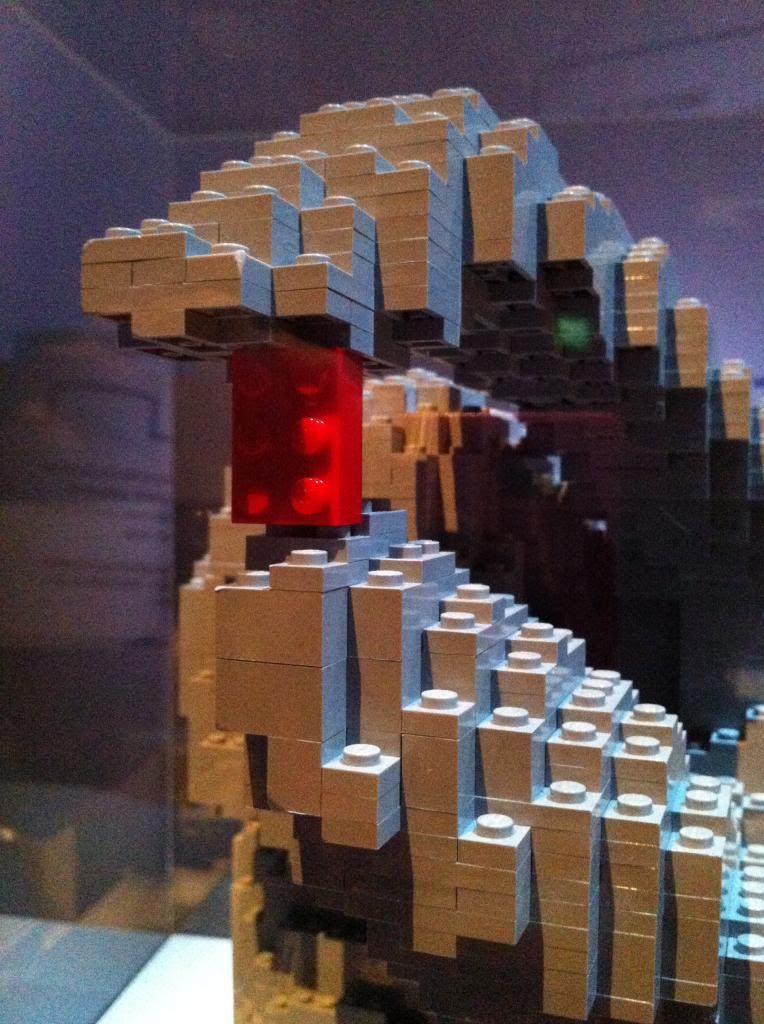 Quoted by Nathan:
Untitled
"There it is, small enough to hold between your thumb and forefinger.
Hold it up to the light. Can you see through it? Look at it more closely.
What is it? Well, it's Art, after all. So you tell me what it is! (2007)
1,601 bricks"
Quoted by Nathan:
An Artist's View
"Where does the real world end and the artist's world begin?
Sometimes when I'm working, it can feel like the truth lies in the work itself
and my surroundings fade away to grey. (2006)
11,561 bricks"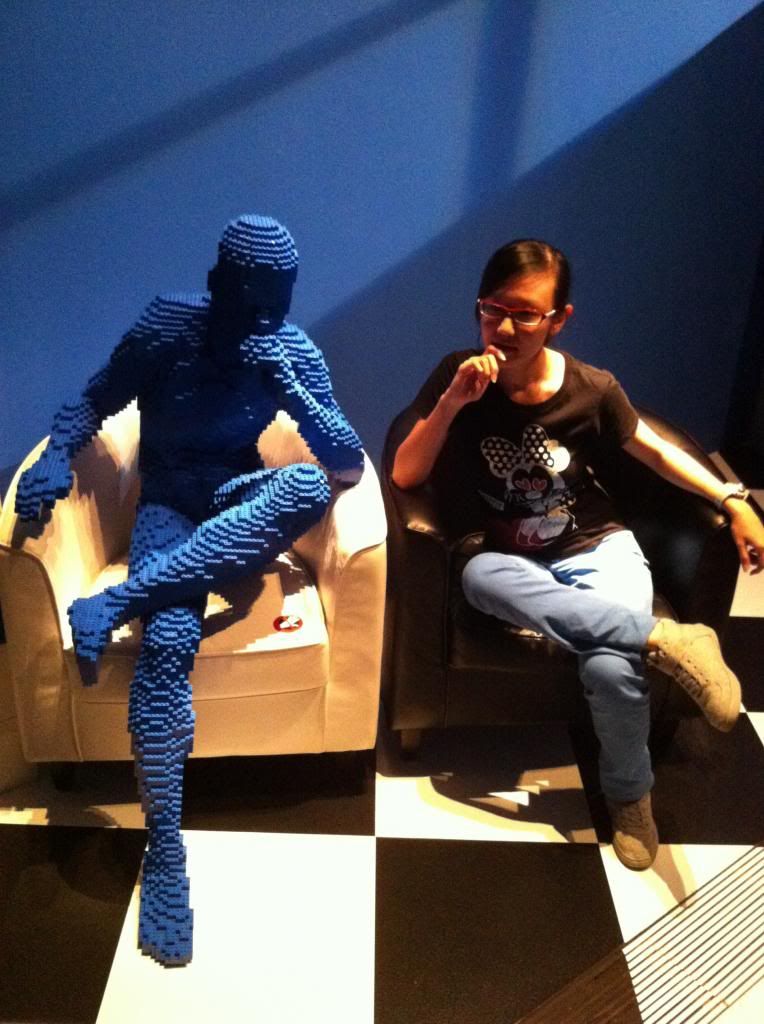 Quoted by Nathan:
Blue Guy Sitting
"This guy still amazes me. He's a real crowd-pleaser. Wherever he is in the world,
people just can't resist taking the empty seat besides him and having their
photograph taken with him, mimicking the pose. I guess he's just a
friendly-looking fella! (2010)
21,054 bricks"
Quoted by Nathan:
Inside
"When we're born, we're all given a shell to live in.
And one of the joys of living is being able to fill it in any way we like. (2008)
2,980 bricks"
Quoted by Nathan:
Everlasting
"Love lives forever. It outlives youth and a flat stomach and a full head of hair.
And that's what makes it beautiful. (2010)
10,584 bricks"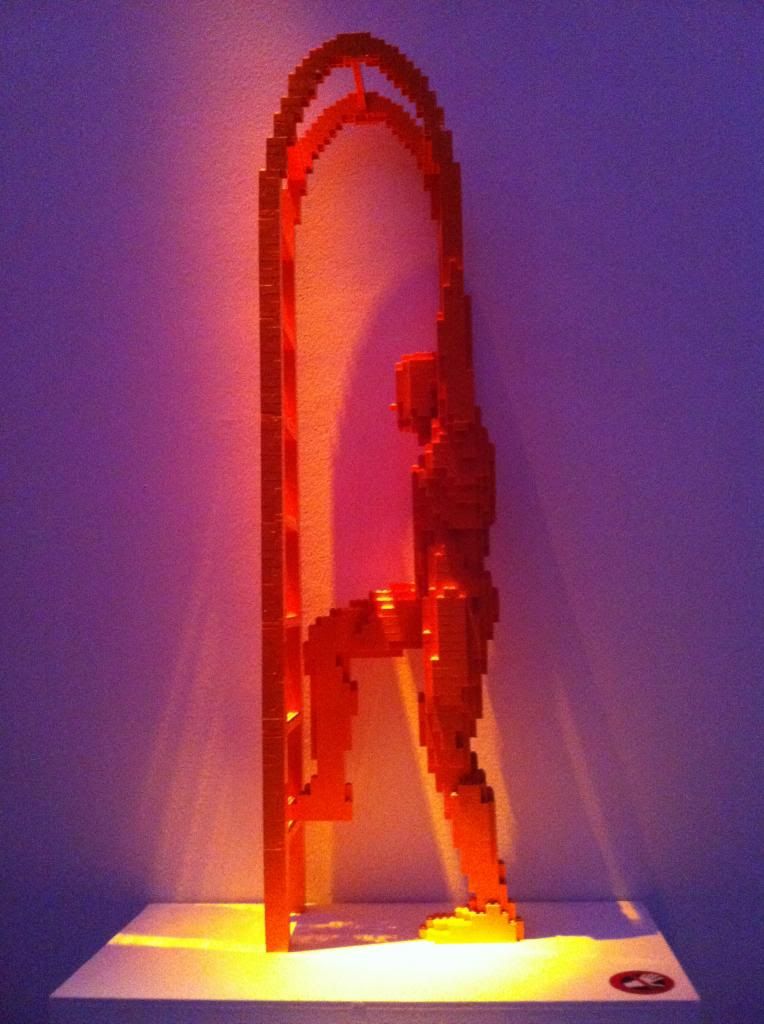 Quoted by Nathan:
Step Ladder
"Sometimes when you're looking for a step up, you don't have to look any
further than yourself. We're all capable of more than we think. (2009)
4,054 bricks"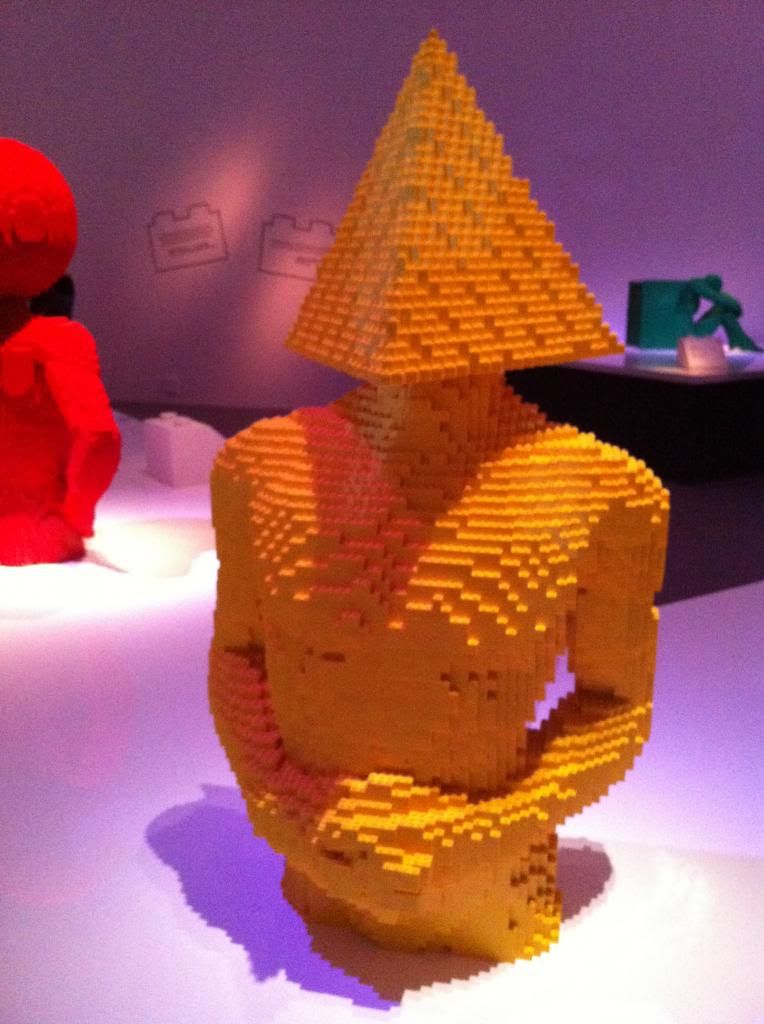 Quoted by Nathan:
Square, Triangle & Circle Torso
"Celebrate difference. If everybody looked and were the same, it wouldn't be a
very interesting world, would it? So which shape are you? And which color?
The circle, square and triangle are the fundamental building blocks of all things.
And the colors red, blue and yellow are the primary colors of our world. (2008)
9,347 bricks"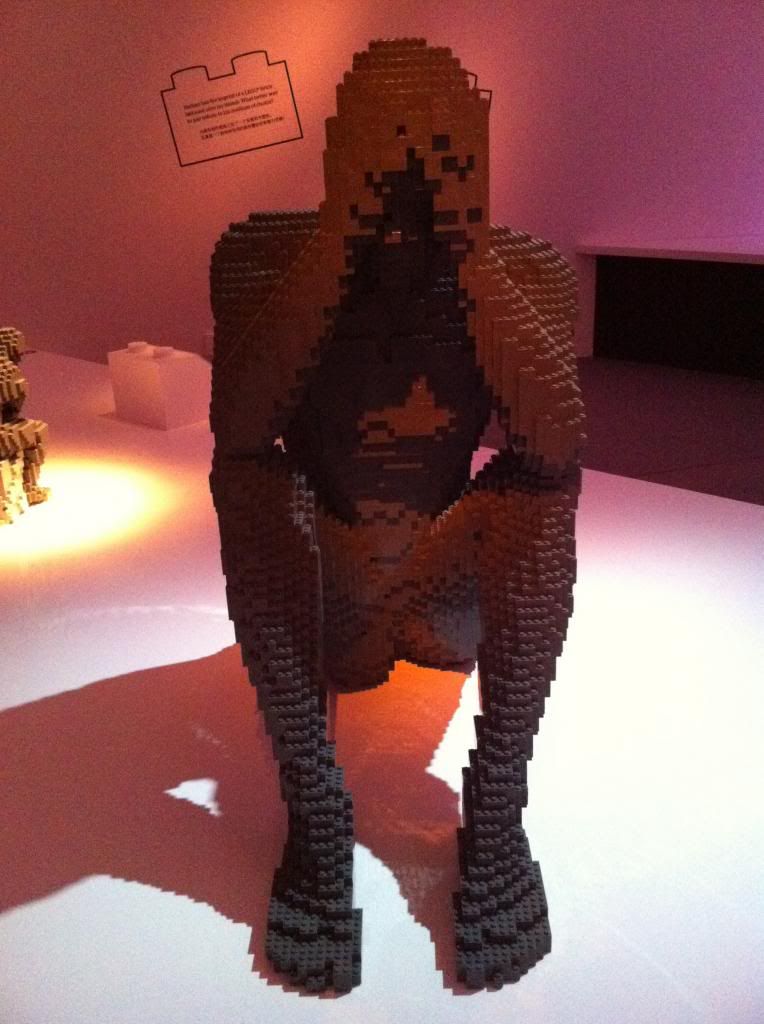 Quoted by Nathan:
Untitled
"When children want to be invisible, they simply hold their hands over their eyes,
making it so they can't see the world. Then they reason that the world can't see
them either. Sometimes we keep using this trick, even when we grow up. (2009)
11,274 bricks"
Quoted by Nathan:
Doorway
"Excuse me. I've just got to step outside of myself for a few minutes.
But don't worry, I'll be back. (2008)
6,988 bricks"
Quoted by Nathan:
Untitled
"I never tire of creating human shapes out of the squared edges of LEGO bricks.
I can get the shapes just right, the curve of an arm, the hunch of a back.
But the bricks break up the lines beautifully, pixelating the form, giving it an
extra dimension. (2006)
1,029 bricks"
Quoted by Nathan:
Thinker
"Auguste Rodin didn't have LEGO when he was making his art in the late
19th century; this, his most famous sculpture, was made of bronze and marble.
But what it depicts, the internal struggle for creativity and original thought,
has always appealed to me. (2009)
1,047 bricks"
Quoted by Nathan:
Disintegration
"Beware the winds of life that nibble away at your sense of self. Stay strong.
(2008)
10,124 bricks"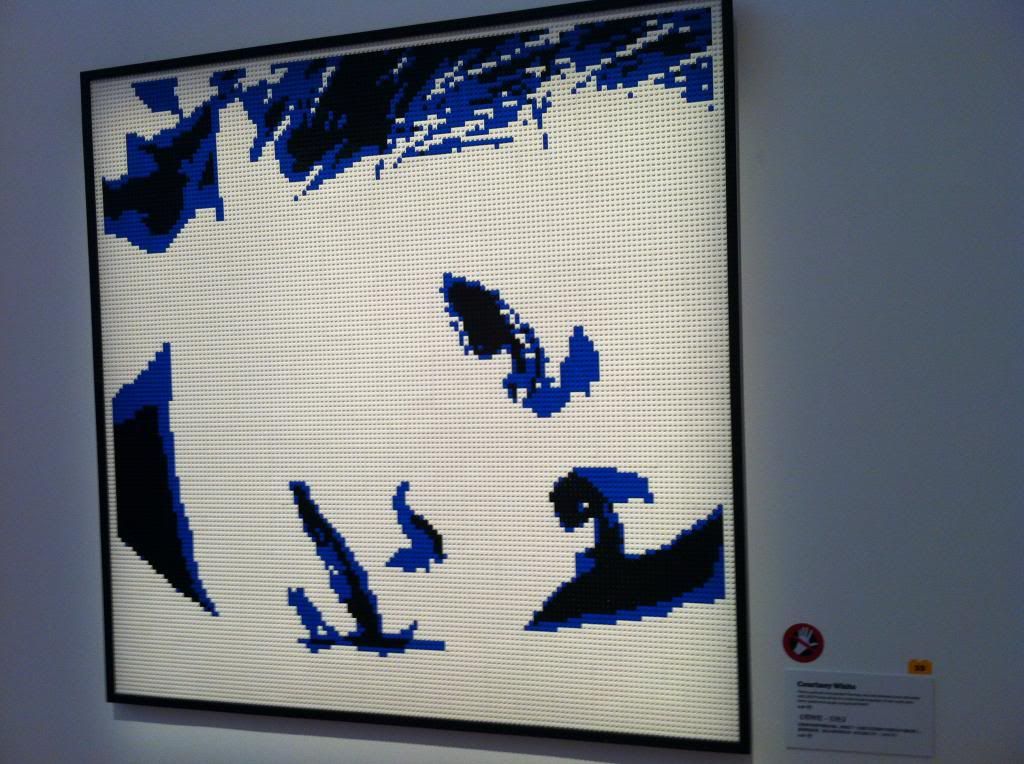 Nathan's wife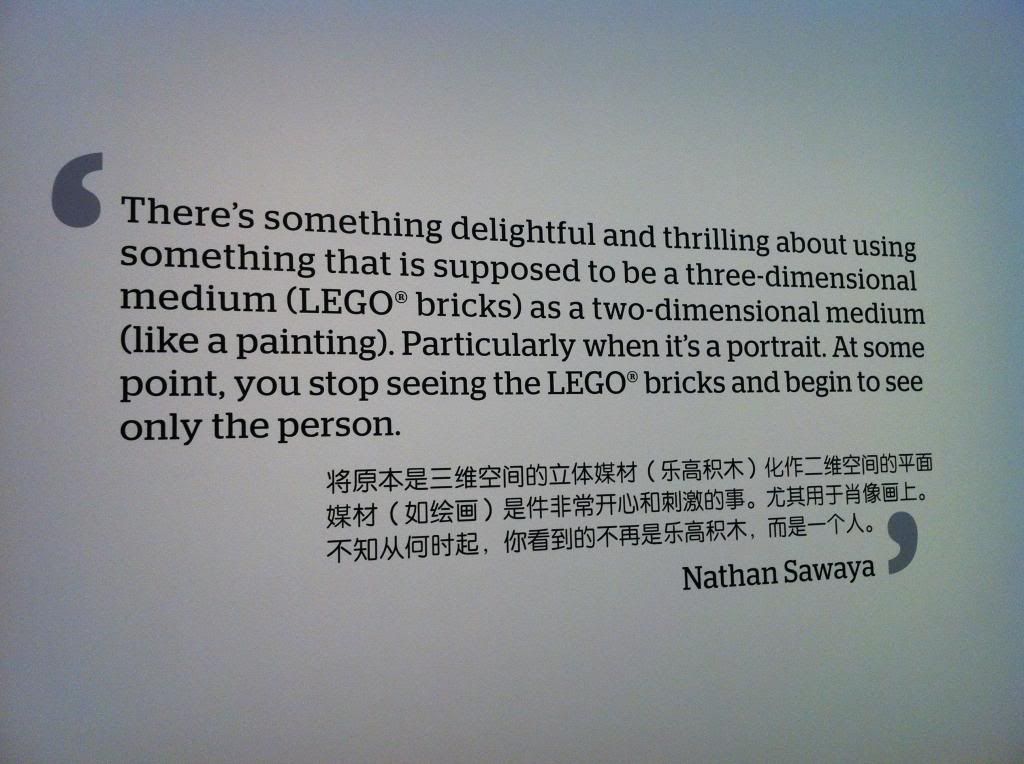 Nathan's feelings on LEGO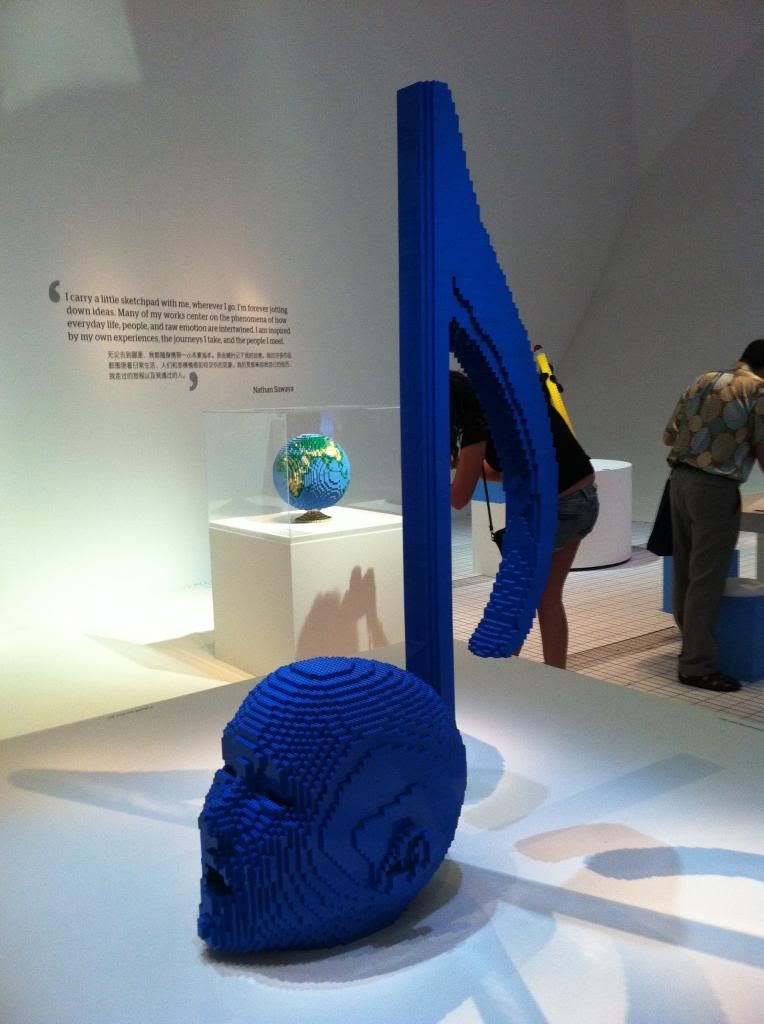 Quoted by Nathan:
Sing
"This was inspired when a friend of mine performed on stage. I was so enthralled
by her singing that I pulled a napkin out of my pocket and sketched this idea.
She literally 'became the music' and this sculpture captured that. (2007)
8,189 bricks"
Quoted by Nathan:
Overcome
"Obstacles. You can let them stand in your way. Or you can overcome them and
leave them in your rear-view mirror. (2006)
7,434 bricks"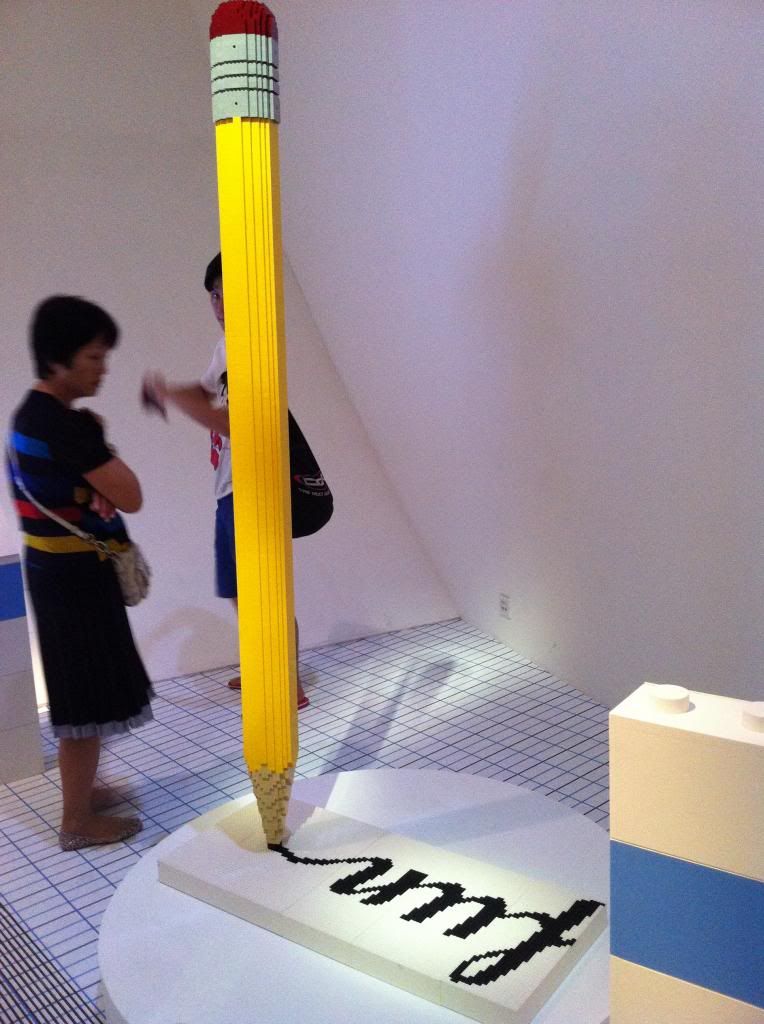 Quoted by Nathan:
Pencil Fun
"It's a giant pencil. It's way taller than me.
It's a great piece if you want to write on your ceiling - which was something
I always wanted to do. (2010)
9,800 bricks"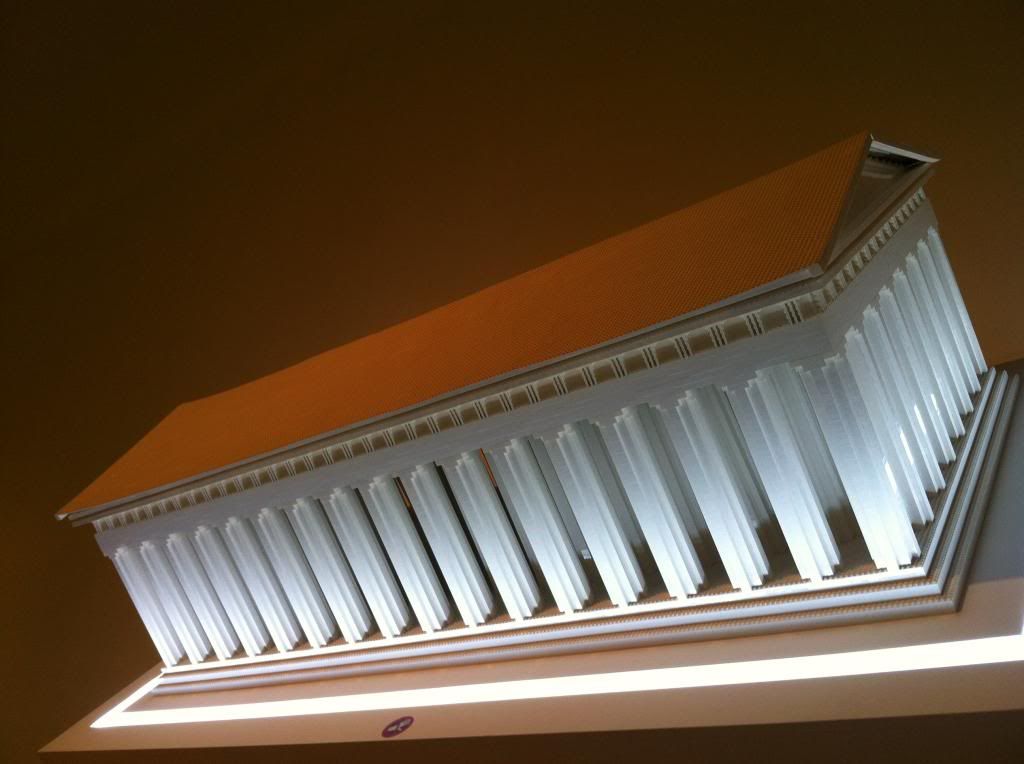 Quoted by Nathan:
Parthenon
"The original version sits atop the Athenian Acropolis, a crumbled skeleton of a
building that still possesses amazing grace and power. I always wanted to know
what it might have looked like in its heyday. (2008)
30,210 bricks"
As we progressed through the exhibition, I became lazy at snapping the quotes for each inspiration by Nathan. Teehee!
Please do enjoy the silent photos. Thank you! ;)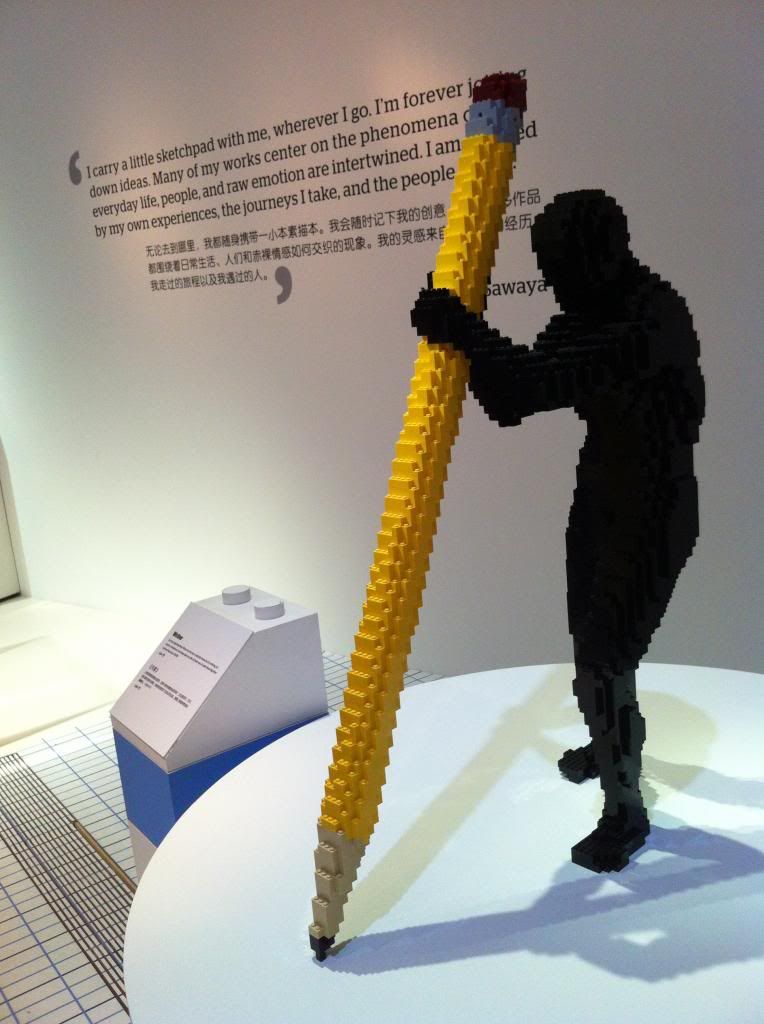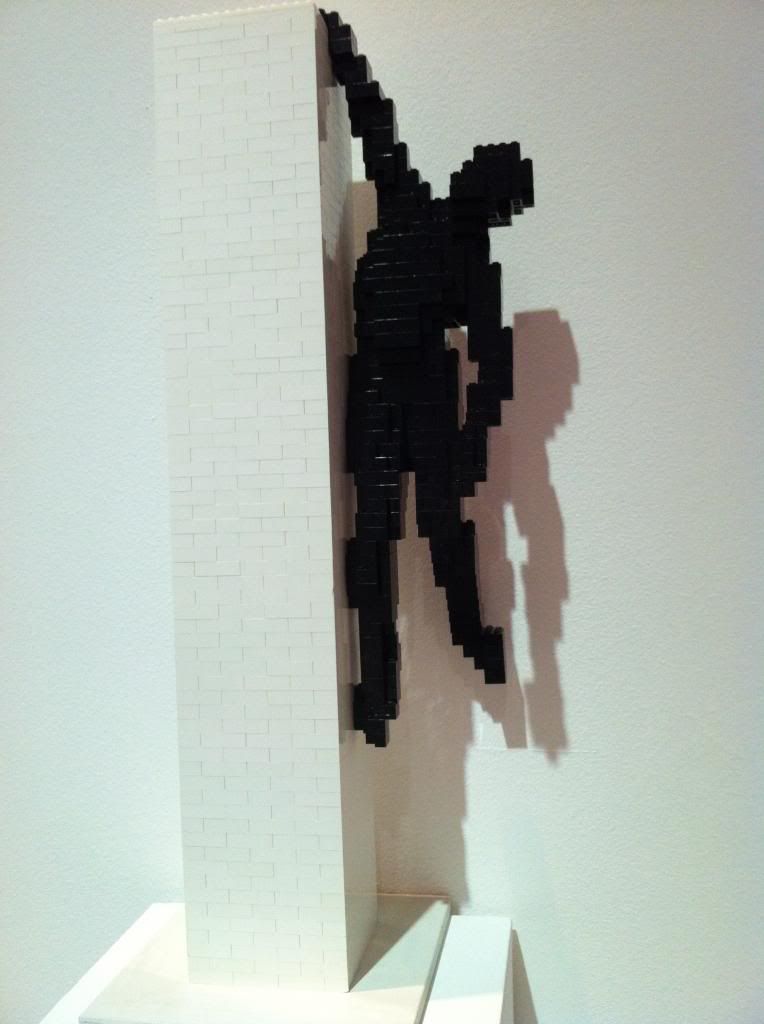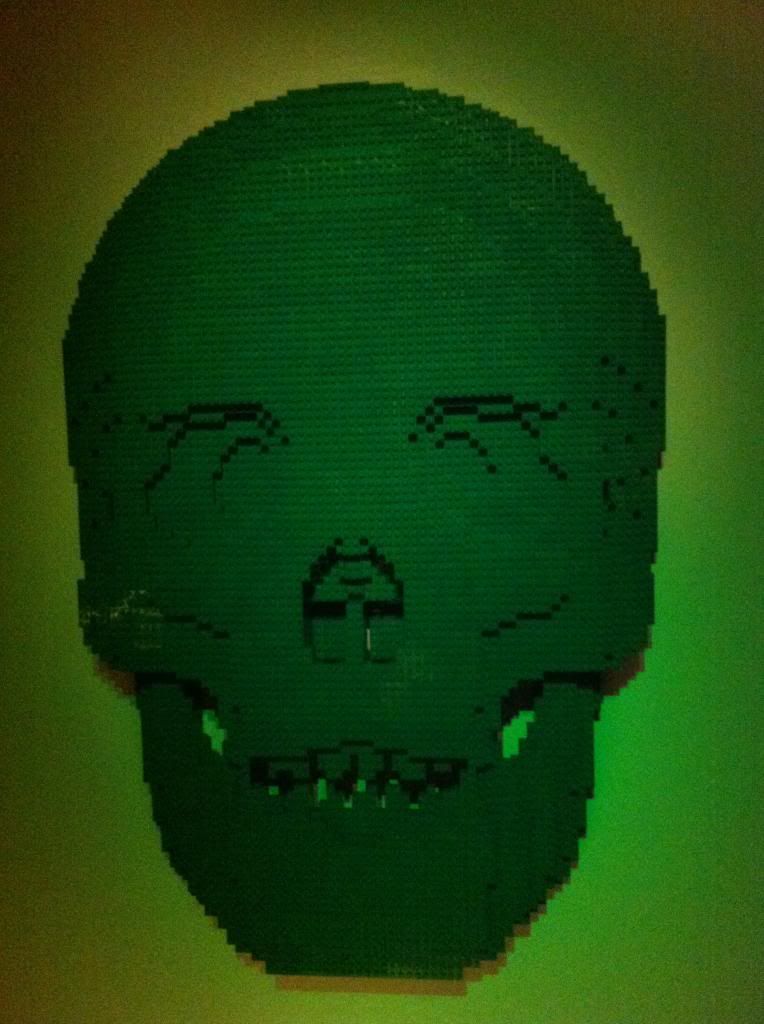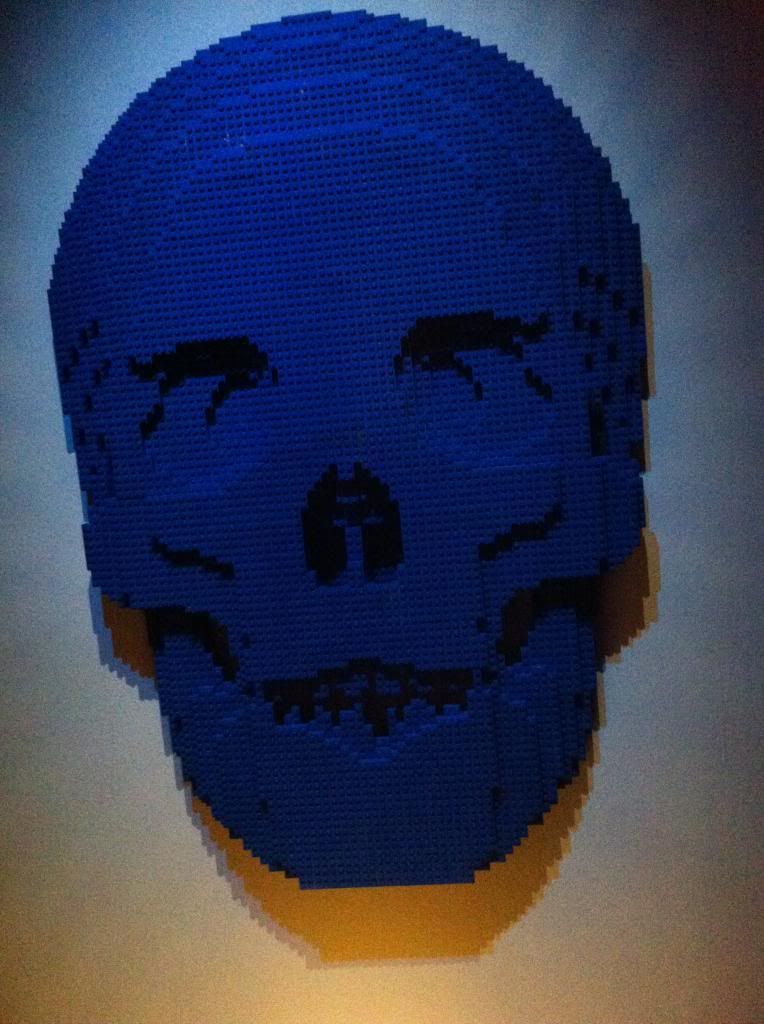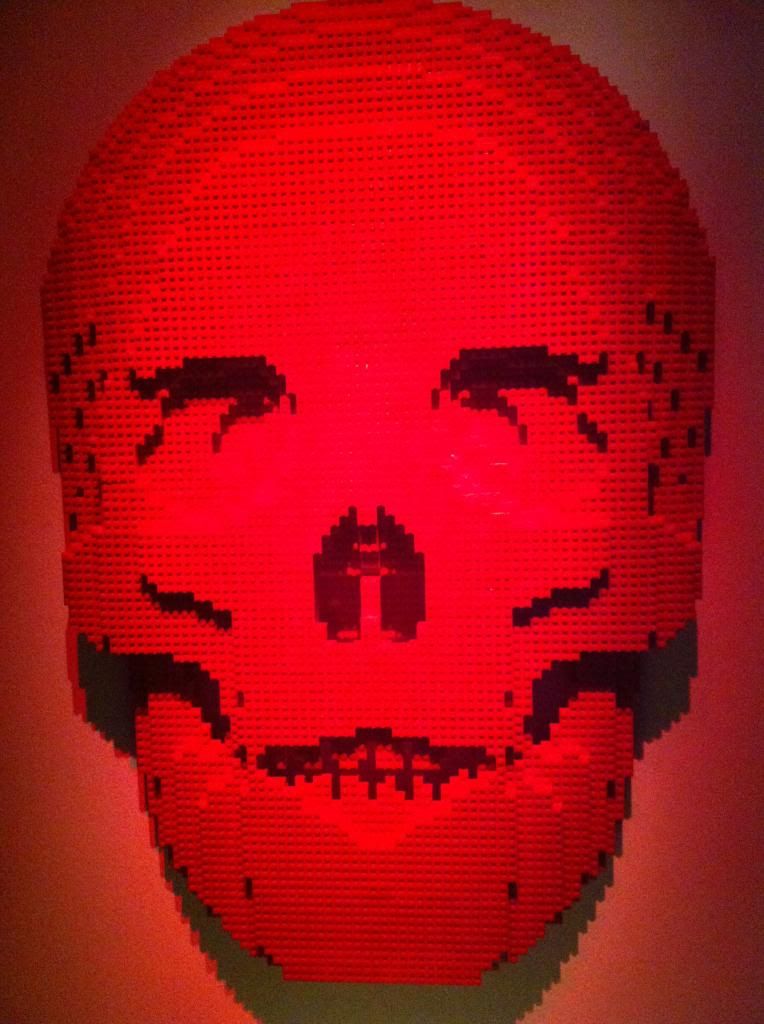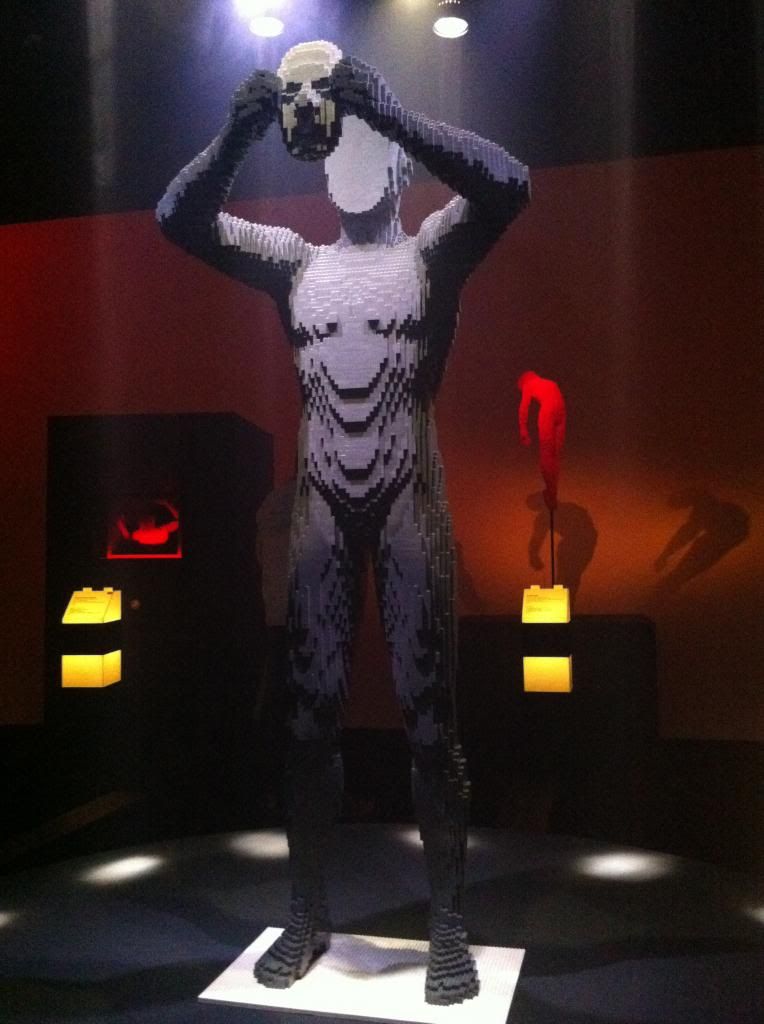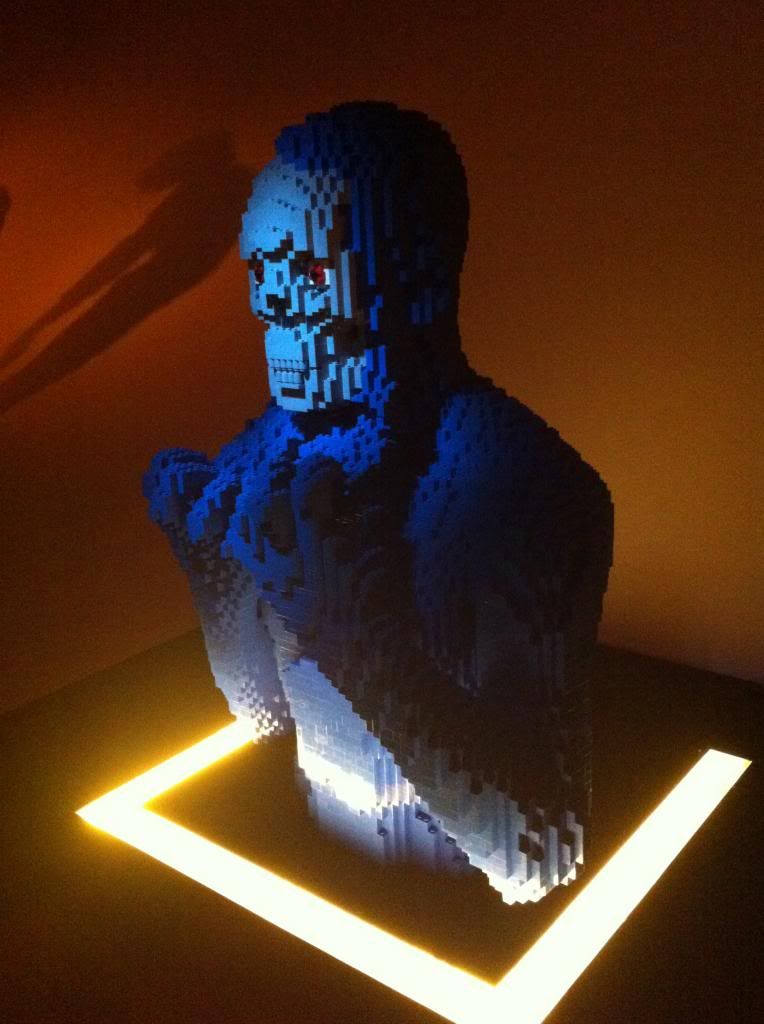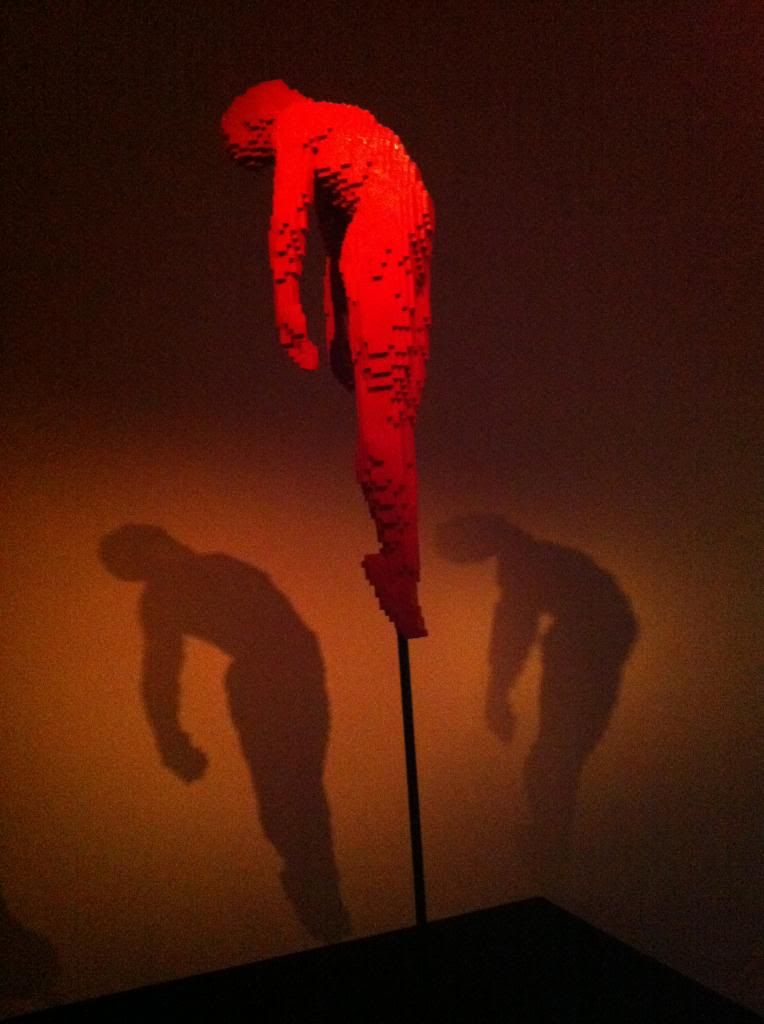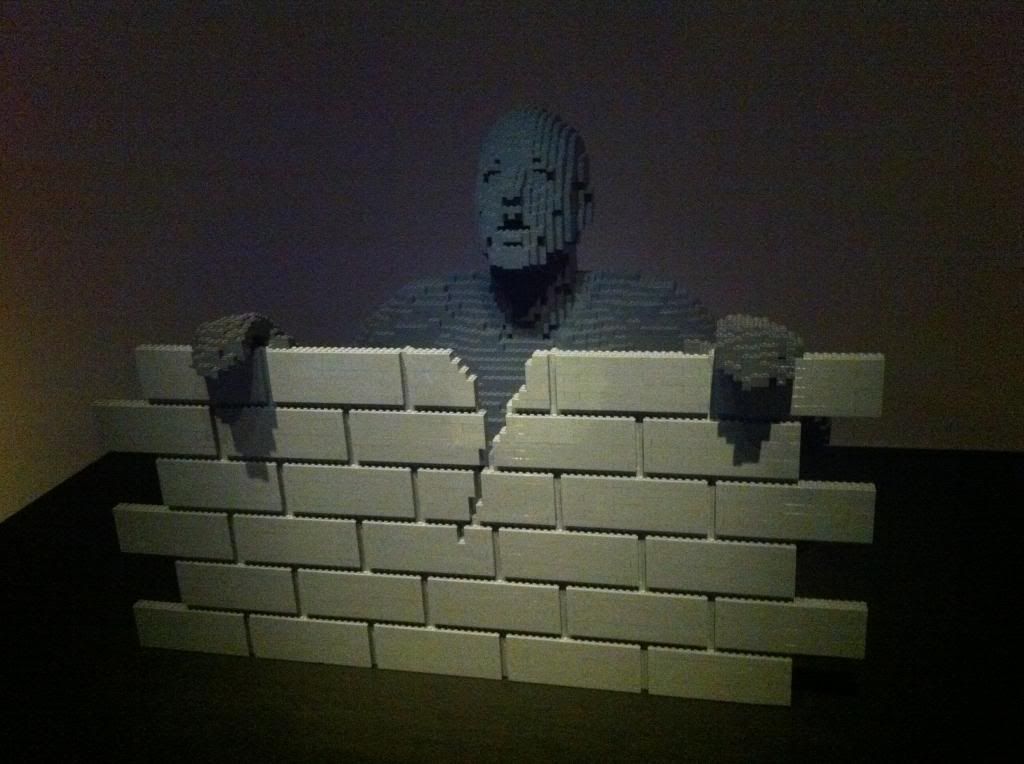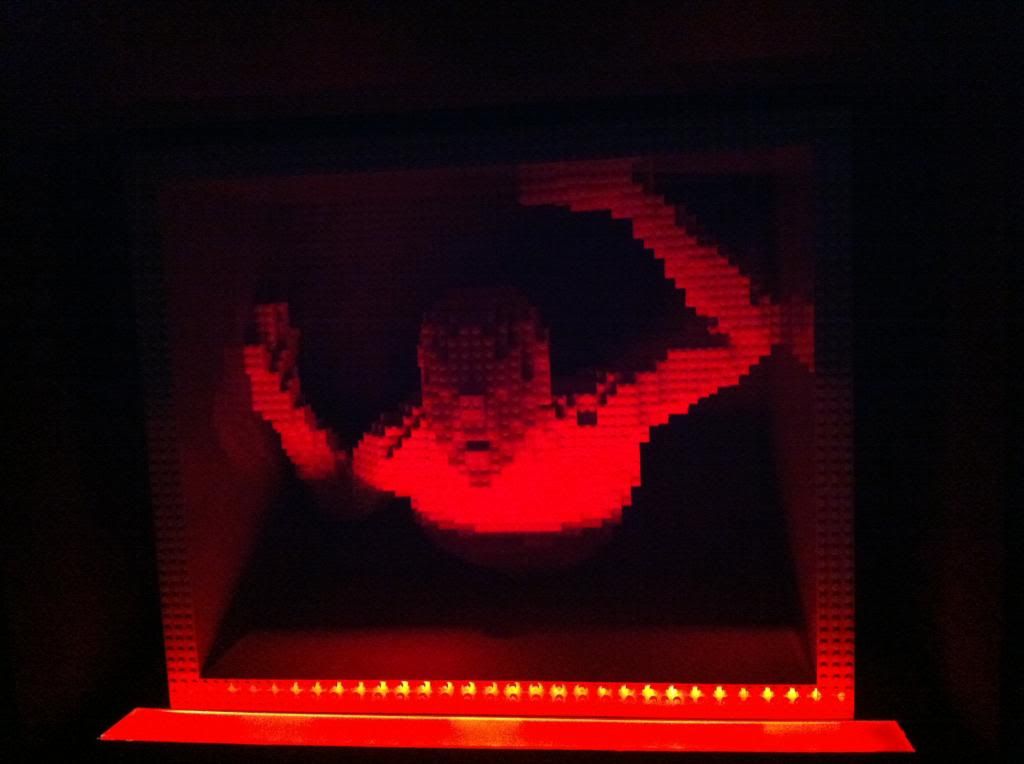 You could feel your emotions going through your body & veins when you view those above..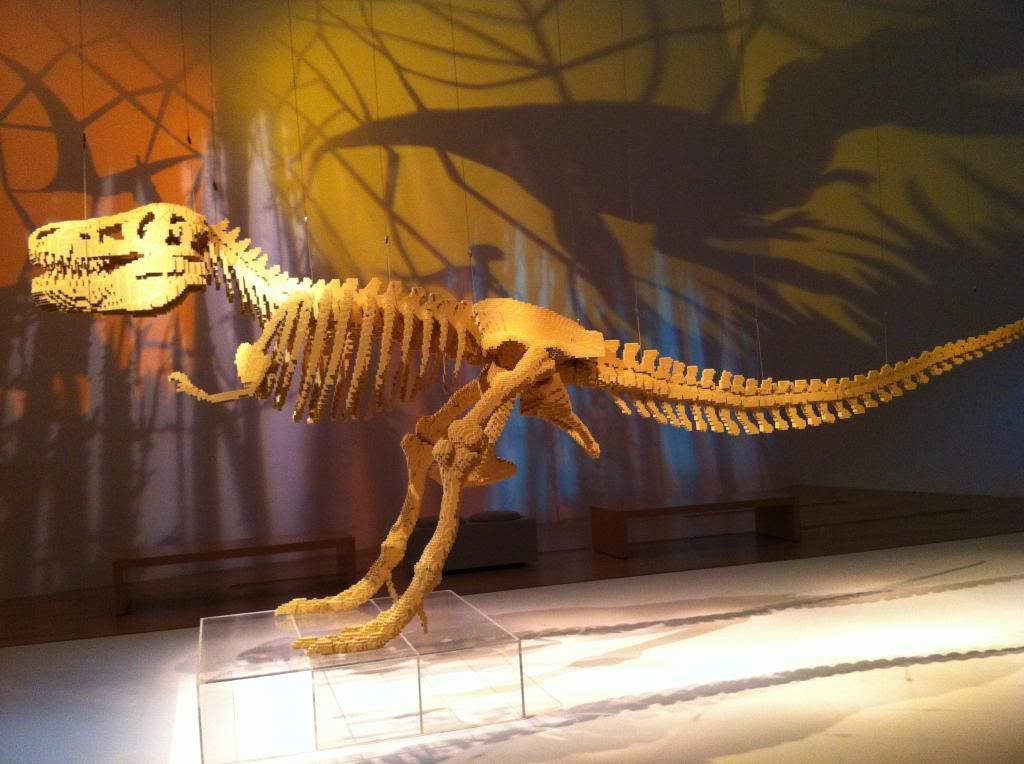 The dinosaur age!
Can you believe that the dinosaur skeleton is made of LEGO!!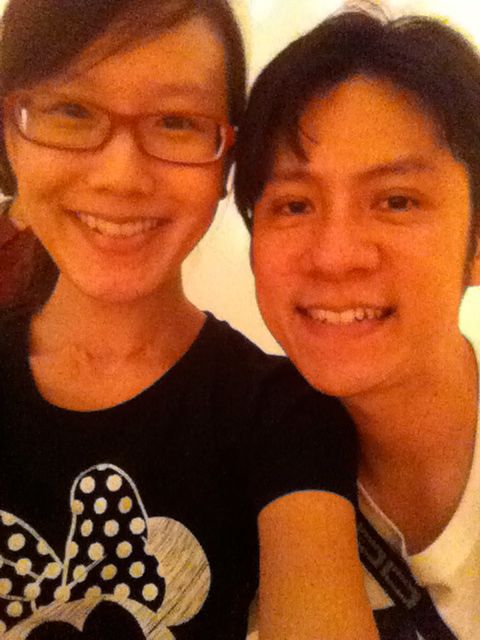 Camwhoring while resting!
Baby, your smile looks natural in this photo!
Smile more this way! ;D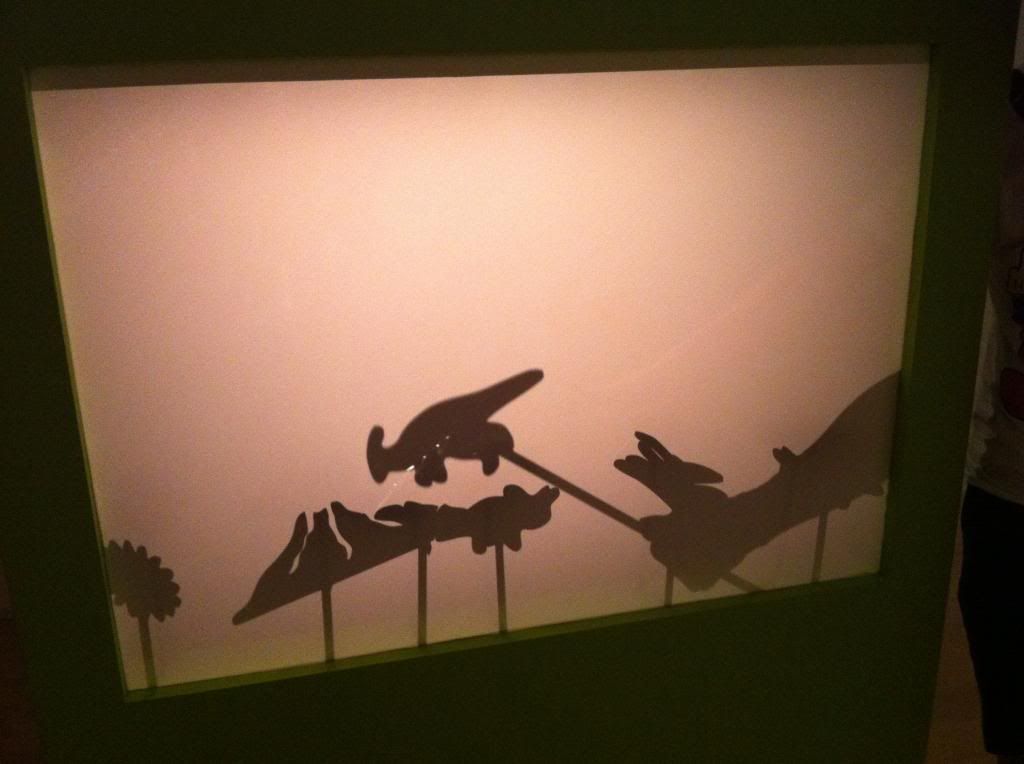 Playing with puppets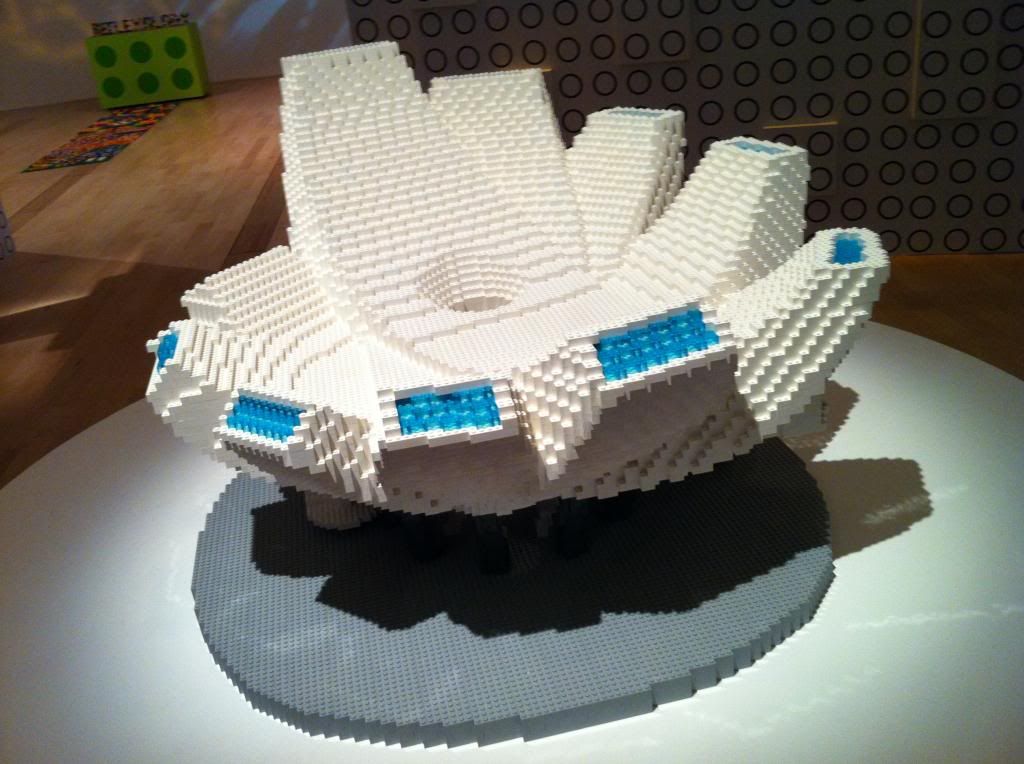 Nathan built this sculpture in honor of MBS who is holding his exhibition.
LEGO Reflexology!
Our shadows
Ending the post off with LEGO photos of ourselves!